whfiwbgferbgfiebhlrg
Meet the KILLER! This 100% dedicated 5-batten wave weapon perfectly combines the three main design objectives we had in mind for this awesome wave sail: Control, Speed and Power!
whfiwbgferbgfiebhlrg
CONTROL!
The 5-batten set-up of the KA KILLER guarantees maximum stability and wind range, allowing you to commit your focus 100% to riding the wave!
For 2018 we have completely redesigned the KILLER! With refined placement of materials to reduce swing weight, the 2018 Killer is as light as ever, but a second vertical shaping panel was re-introduced for improved draft stability. Also, a 4 mil X-Ply has been introduced to the bottom panel for maximum durability.
The outline of the KILLER has been «tweaked» with leech scallops which have been added to minimise any leech flutter when sailing overpowered. A leech cutaway introduced just below batten four increases the reflex at this batten, resulting in a softer transition of power when sheeting in and better control in rough water.
The Killer is available in two different constructions. The blue and yellow colour combination comes with a Monofilm window, which seriously improves your vision when you are sailing DTL, looking into the setting sun. Perfect for when you're out all alone scoring that one last wave! The red and yellow colour combination is a bombproof 100% X-ply construction.
SPEED!
Our design team paid special attention to maintaining the reputation of the Killer for 2018 as a unique extension of your style with a unique look and feel, reworking only the luff curve by increasing the curve near the boom to help the sail fill out more. And the shaping in the mast sleeve area guarantees a better performance and a less locked-in feeling.
POWER!
KILLER has become even more lethal in 2018! Thanks to the complete overhaul, features like stability, durability and performance have been seriously improved upon. You will also experience more power, yet with a subtle soft touch not easy to forget!
The ergonomic features of the KILLER are in perfect balance to allow you to drive down the wave with speed to burn. Engaging fully committed rail-to-rail turns becomes child's play…
TURN, SMACK, GOUGE, REPEAT!
Don't be fooled into thinking we have sacrificed strength to gain weight savings. That myth has well and truly been busted!
As every season, we gave our R&D team strict orders to try and destroy one of the prototypes. They put themselves right in the impact zone of some of Western Australia's heaviest reef and shore breaks … the only thing that came out broken was their ego! Killer is built to last and take the heavy hits!
If you're looking for a great all-round wave sail for use in a wide range of conditions, KILLER is your best choice!
KILLER IS AN AWESOME ALL-ROUND WAVE WEAPON, RESPONDING TO ANYTHING YOU THROW AT IT!
| Size | Luff | Boom | Mast | Head | RRP |
| --- | --- | --- | --- | --- | --- |
| 3.3* | 335 | 141 | 340/15 | Adjustable | € 479,= |
| 3.7 | 371 | 148 | 370/17 | Adjustable | € 489,= |
| 4.2 | 388 | 159 | 370/17 | Adjustable | € 509,= |
| 4.7 | 408 | 167 | 400/19 | Fixed | € 529,= |
| 5.0 | 415 | 170 | 400/19 | Fixed | € 549,= |
| 5.3 | 426 | 175 | 400/19 | Fixed | € 569,= |
| 5.7 | 442 | 179 | 430/21 | Fixed | € 579,= |
| 6.2 | 460 | 186 | 430/21 | Fixed | € 589,= |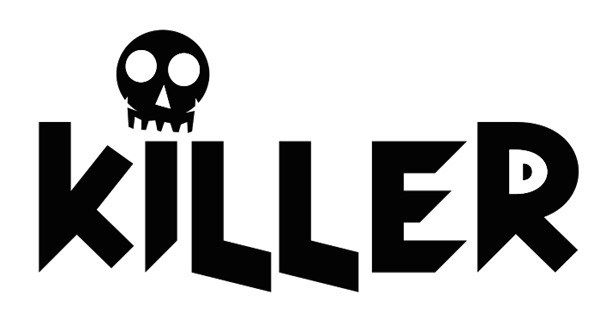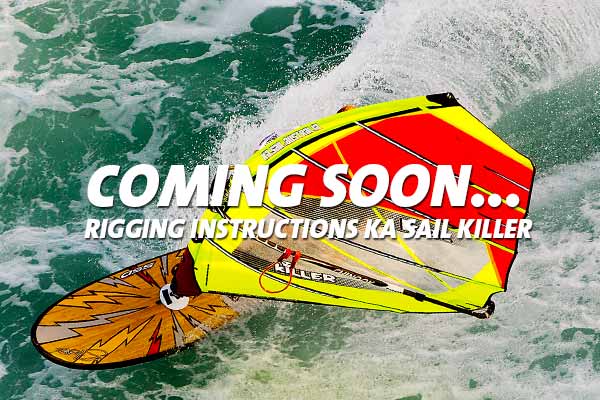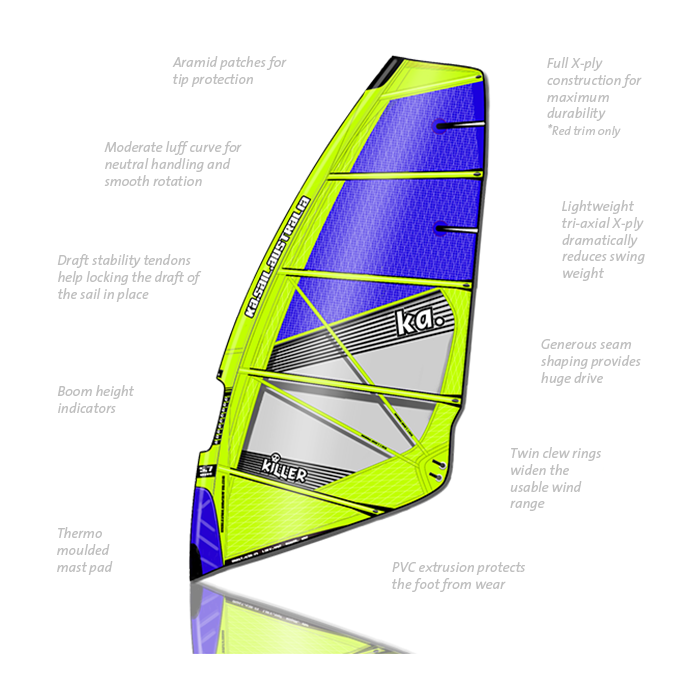 Discipline

Wave

Battens

5